Sniff sweaty feet, lick ass, eat shit! The weekend passed. Karina and Anna were very bored, so they invited me to have fun. The first thing I had to do was serve their feet. The girls decided not to take off their socks and after massage, they began to rub their feet on my face. The smell of foot sweat remained on my face even after they stopped touching it. But it was the smell of a beauty girls' foot sweat, and I admired it. I was very pleased. Yesterday's dinner and the beer Mistresses had drunk were eager to go outward. The girls, as usual, decided to use me as a toilet slave. I really wanted to taste shit from Mistress Anna. Unfortunately, Anna was unable to poop this time. However, Mistress Karina watered and fed me very well. At first, she pissed into my mouth, filling it to the brim. Then, the mushroom pizza and mashed potatoes, processed in her intestines, she splitted in 3 big servings. Karina's ass gave out each serving onto a plate . Mistress Karina's shit was very smelly but delicious, and I swallowed with pleasure each of three portions. Also I got great pleasure from the fact that Mistress Karina allowed me to lick soiled anus, she decided not to use toilet paper. I dreamed about it for a long time, and my dream came true. The ladies were pleased with me. I really dream that Mistress Anna will feed me a big portion of shit, but it will be next time.
Waiting for a chocolate treat from Anna Mistress Anna really enjoyed using the toilet slave. So she decided to share her impressions with her college friend. A friend asked Anna to make a video in which she humiliates a slave and poops in his mouth. Mistress Anna endured for a long time. She didn't use the toilet and had a hearty dinner. Today came the day of shooting the video, and Mistress Anna invited me for serving her as a toilet bowl. She took me to a room where I had to lie on the floor and wait for her. Finally, she came. I admired Mistress Anna's beautiful figure and ass as she took off her pants and panties. After that, I enjoyed the sight of a beautiful anus which had been opening and closing, trying to pass through it a hard chocolate sausage . Anna was constipated and struggled for a very long time. Finally, the goal was achieved. 2 bitter chocolates fell into my mouth and I swallowed them with pleasure. It turned out a little, but it was enough for me to get to know the taste of what Mistress Anna ate for breakfast. It turned out to be a great video for a friendgirl.
Aigul humiliates her toilet slave. 2 parts. She look you in the eye and you know she really wants to shit. She prepares you for the toilet and says – you have to eat everything, she humiliates you by looking straight in your face. And you know that if you were in front of her, you would do your best to get her admiration. This girl is very beautiful, she has a gorgeous ass and big breasts. Eating shit out of her ass is a rare delight!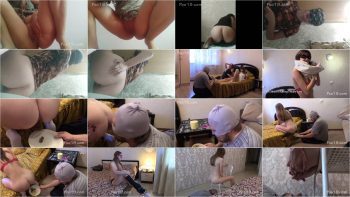 Name: Poo19 – Smelly Milana – Collection Update 4x _
Permission: FullHD
Duration: 00:38:53
File size : 3.42 GB
Resolution : 1920 @ 1080

Poo19_-_Smelly_Milana_-_Collection_Update_4x__.part1.rar
Poo19_-_Smelly_Milana_-_Collection_Update_4x__.part2.rar
Poo19_-_Smelly_Milana_-_Collection_Update_4x__.part3.rar
Poo19_-_Smelly_Milana_-_Collection_Update_4x__.part4.rar