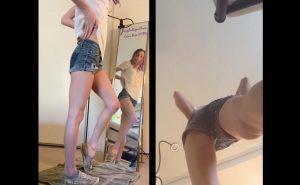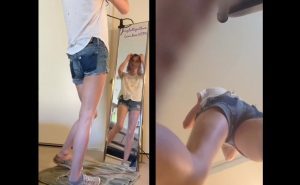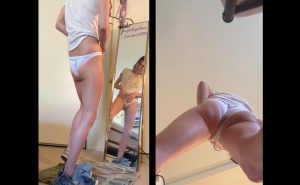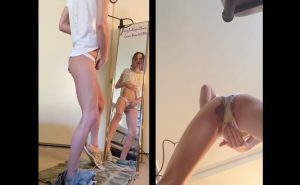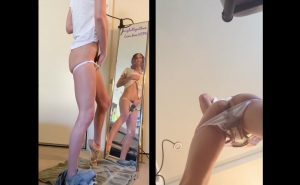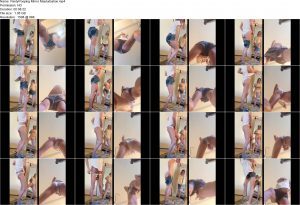 Lena is a total goody good. Always neat and put-together, sweet as can be, shy even. People would be shocked to learn just what a dirty, grungy, fucking filthy little slut her evil twin is online.
Standing before the mirror, I check out my "evil twin's" reflection. I am decked out in my grungiest clothes: piss- and shit-stained panties that used to be white once, a ripped and stained T-shirt used only for messy projects, ruined tennis shoes, mismatched holey socks, and ratty shorts that show panty-lines through the threadbare denim. I admire my disgusting reflection and decide I want to make myself even more fucking disgusting.
Being dirty is SUCH a turn-on. I have to get dirtier still. I watch myself closely in the mirror as I play with myself through my shorts and panties. I see my face staring back at me in filthy pleasure as I make a huge shitty mess in my panties. When I get out my vibrator, I shit even more as I lose control! Squirt mixes with hot shit and threatens to drip down my legs onto the floor as I orgasm HARD.
Good girl me would be ashamed, but slutty twin me? She's too busy quaking with pleasure and basking in post-orgasm glow to care.
**This video was shot on two cameras for extra viewing fun! One shows the whole mirror and my body, one is a closeup "upskirt" view. This edit is in 16:9 resolution (think YouTube videos/ or "landscape"/horizontal style). The closeup "upskirt" shot and full mirror shot portrayed as the same size and placed side-by-side. If you would like more focus on the full-body and what's going on in the mirror or prefer TikTok style vertical videos, the same video is available in my shop in that style as well.
Name: PantyPooping Mirror Masturbation.mp4
Permission: HD
Duration: 00:08:22
File size : 1.05 GB
Resolution : 1598 @ 988

https://takefile.link/ub3x2771fqn6.html?referer=scatmob.com
https://takefile.link/kzto8h2tjupn.html?referer=scatmob.com
https://takefile.link/48sp4jrwdnz1.html?referer=scatmob.com
248 total views, 1 views today